Hatching Ponds & Retail Sales
2250 Coggon Road, Coggon Iowa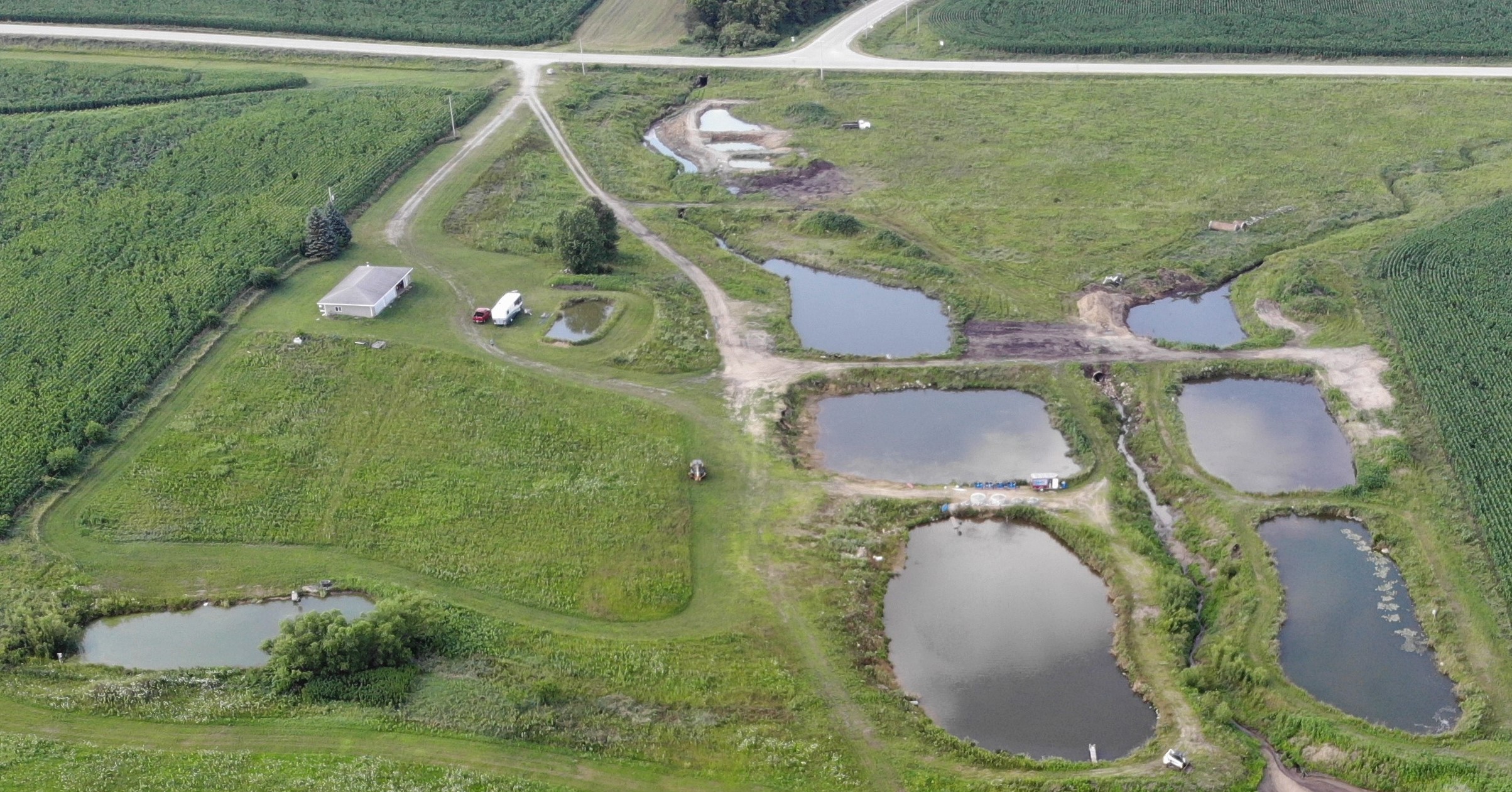 In 2012 we purchased 25 acres to the West of Coggon Iowa. We began building mud ponds, and expanding our business. Hatching and Raising koi in the natural mud the same way they do in Japan. We currently have 8 ponds and growing every year.
Breeding Facility
3653 Toddville Road, Toddville Iowa


The Koi House
We don't leave our breeder koi outside in the winter! My visit to Japan in October 2004 inspired me to build a koi house. We broke ground on September 2005. November 2009 we added an addition essentially doubling the size of the koihouse. The current dimensions are 22x44 and we have 26,000 gallons of water. The roof and walls are covered with 8mm twin wall polycarbonate panels. The building is heated via a 45,000btu natural gas furnace. We run 5 water pumps, and 7 air pumps. Construction Photos of the Kohouse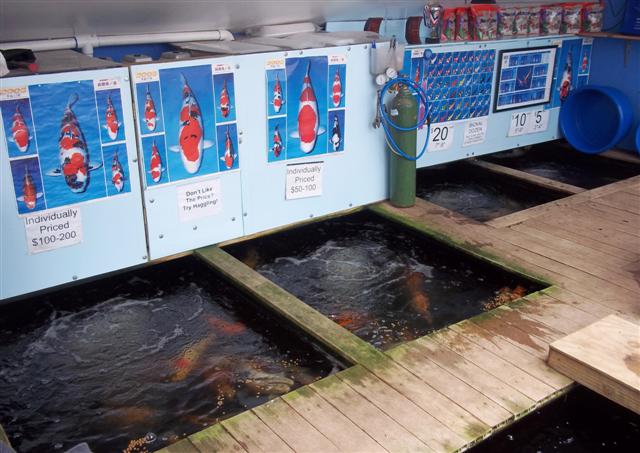 Sell Tanks
These 4 tanks are all 4' deep and contain our koi which are currently for sale. The koi are sorted by Size and Price for convienent selection. See a koi you like? let me bowl it up for you for a closer look. The blue bowls provide an excellent background to compare koi!
Fry Hatching and Tosai Grow On Tanks
This is the new addition to the koi house done in 2009. These 4 tanks are all 4' deep. We hatch out fry in 3 of the tanks. The other tank is for raising high quality tosai (1 year olds).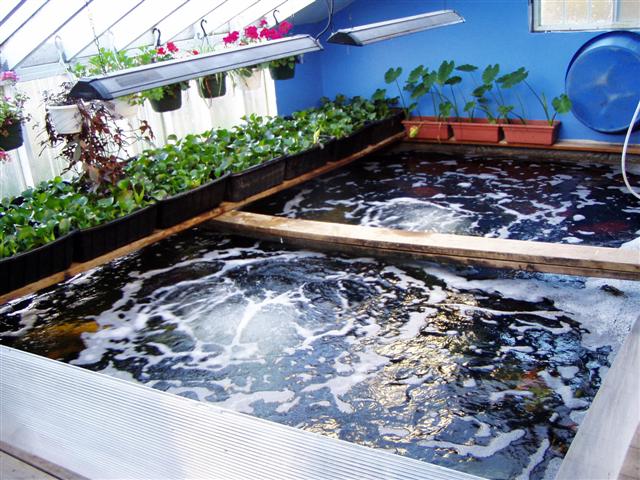 Breeder and Nissai Tank
This tank is 5 1/2' deep and is where all of our breeders will overwinter. During the summer it is used to grow high quality Nissai (2 year olds).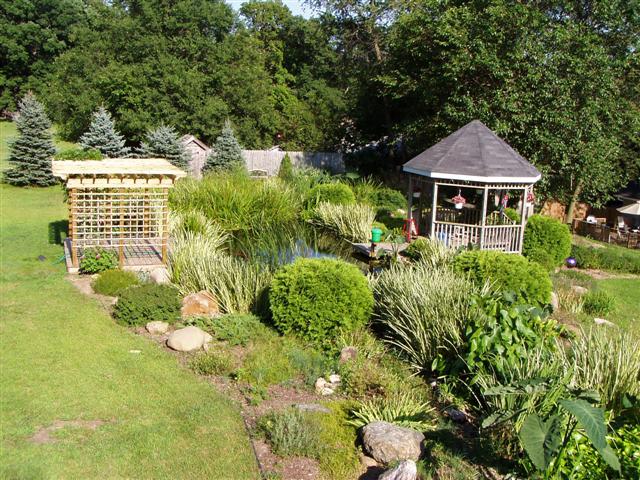 Spawning & Display Pond
This is our main breeding pond. It holds 20,000 gallons, has 6 bottom drains with air, 3 settling tanks, bio-filter, and extensive stream system.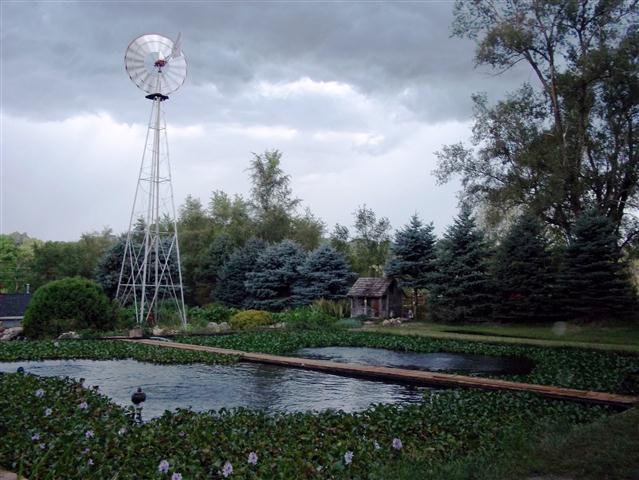 Fry Ponds
There are 3 ponds here, newly remodeled in 2012. Each pond is 25x45 and 6' deep and around 20,000 gallons. When the koi are finished spawning, the eggs are placed in these ponds to hatch. The koi grow here all summer. In the fall, the higher quality koi are harvested and taken into the koihouse to grow for the winter
Our Old Grow-out Facility
We no longer use this pond! This pond was constructed in September 2009 in partnership with the Cedar River Garden Center in Palo Iowa. The pond is 44'x88' long 5' deep and holds 60,000 gallons. There is a 6" bottom drain with air dome and a unique settling chamber that is housed underneath of the waterfall.